R&D Roofing installs Rubberbond EPDM Flat Roof System
Mozarrella Joes
We had several discussions back and forth about which EPDM flat roofing system would be the most desirable, cost effective and efficient for this large flat roof. Given that the existing 300m2 flat roof decking was sound, and that the roof was housing a large restaurant underneath, the most practical, appropriate and cost effective solution was to provide a Rubberbond EPDM flat roofing system.
RubberBond EPDM Flat Roof System being installed at Mozarrella Joes, Southsea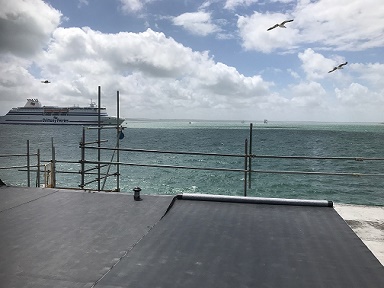 Q: Why is RubberBond EPDM the best flat roof solution for this roof?
A: There are many excellent flat roof solutions, such as ClassicBond EPDM; however this would have involved boarding over the existing felt roof and screwing into the existing joists. This would mean the roof would be left open to the elements before it could be covered over with ClassicBond.  Not ideal in this instance, as it was housing a restaurant below! Another good solution is Fibreglass EPDM, which would require a scaffolding canopy. In order to avoid driving up the cost for the customer, it was decided after several chats back and forth that RubberBond would be an excellent choice.  It's known for its ability to withstand extremes of temperature, and provides a fleeceback insulated layer twice the thickness of standard EPDM, the finished product is an attractive, watertight and insulated roof system.
Q: What is so good about RubberBond EPDM?
A: It is an ideal flat roofing solution because it is so durable, flexible and resilient; with a supreme high quality finish in dark slate grey which is very pleasing to the eye.  The bonus for this customer is that we were able to overlay the existing roof covering with RubberBond without having to disturb the decking or joists, giving the customer peace of mind that they would not have an open roof at any time and could continue business as usual.
We stripped out the slatework above the layboards and the RubberBond Fleeceback was laid and sprayed on pU adhesive. This sounds fine until its windy and you have to take a break to prevent the adhesive ending up on the Queens Hotel window over the common!  The RubberBond rolls were 3 metres wide with seams down one side.   A great solution, since with factory applied tape it provides even adhesion on the seams and reduces potential human error. Along the front edge facing the beach, the roof was finished off with a termination bar detail, screwed into the roof battens below and sealed.