What is Single Ply?
Firstly, lets take a look at what a single ply roof is. We strongly believe that it's a flat roofing solution which will give your roof a long lifespan as well as a good looking finish. It is made up of flexible polymer which provides a waterproof membrane layer in a single sheet. Single ply membrane has evolved significantly over the years since it's introduction in the 60's and as a result, continues to be the leading product in both domestic and commercial flat roofing. R&D Roofing are fully trained and certified installers of Roof Assured by Sika; this system we know offers a high performance single ply waterproofing solution for your flat roof.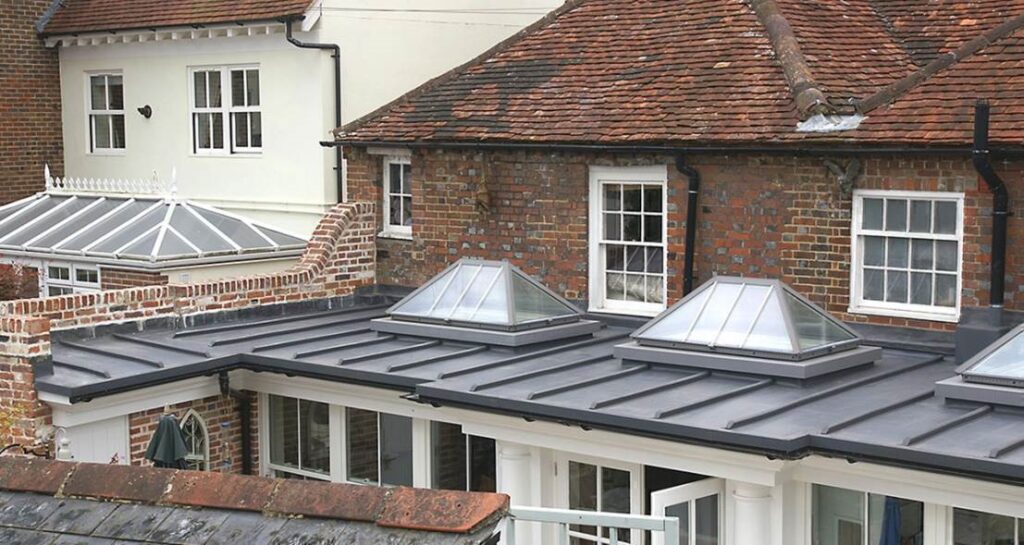 Flat is definitely back, when it comes to homeowners looking for ways to improve their living spaces. Some of the popular additions to homes you might see around are flat roof extensions leading off kitchen-diners and living rooms, or a new home office, or conservatory. Of course there are also homes with roof terraces and balconies providing another whole new flat roofing space. For lovers of the outdoors it is even possible to transform your single ply flat roof by going green and adding a roof top garden. A new single ply flat roof can add kerb appeal to Dormers, Porches and Bay top roofs providing a sleek, clean, and modern finish.
Why is single ply roof membrane popular?
A single ply roof membrane will always be popular for both new flat roof builds and refurbishment projects because it is lightweight, flexible, cost effective, quick to install and safe. Our customers like it because it is looks really good, it is durable, fire-resistant, and low maintenance. There are many single ply systems out there, and as they really have emerged as THE new roofing solution we have chosen a system which has proven its worth. We really want you to have a quality product and finish when it comes to your flat roof. We are committed to environmental care and as such take care to use products which are BBA certified and recyclable.
What are the highlights and benefits of Single ply?
Singe ply highlights
Safe, quick and clean installation independent of the weather
Possibility of customised design solutions (range of colour options, profile and trim, classic lead or modern standing seam/zinc look)
Suitable for new build and refurbishment projects
Minimum disruption on site – no naked flames
Waterproof
Good vapour permeability (reducing risk of condensation)
Long working life expectancy 50 years plus
Suitable for Warm or Cold deck roofs
Suitable for use in all-weather conditions
Resistant to UV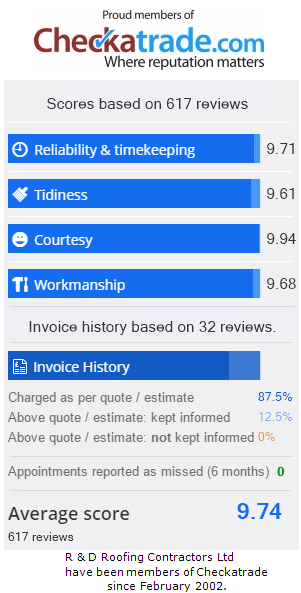 We ensure that all of our work is high quality and that we produce excellent results for all of our customers. Please take a look at our Checkatrade page to see some of our reviews from happy customers that we've collated over the last 20 years.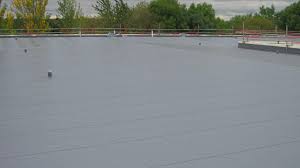 Benefits of single ply
Eco-friendly
Single ply membrane is eco-friendly because of the quality of its production and the longevity of the product. The options to recycle further down the line are numerous since single ply membranes comprise high quality Polymer which is actively sought for secondary recycled projects. For example: Playground surfacing, rubber planters, outdoor garden furniture, yoga mats and more…
Durable
Single ply membrane is proven to last 50 years and more, which means this is a cost-effective solution for your new or existing flat roof. R&D Roofing Contractors provide a 20-year labour warranty for your roof, and a 10-year insurance backed guarantee issued by the Confederation of Roofing Contractors of whom we are members.
Insulation and protection
Single ply membrane provides remarkable protection from the elements,. It will withstand exposure to sun, wind or rain, and is also resistant to UV radiation. Consequently your home will be protected both inside and out, keeping your household warm and dry.
Modern and innovative
The single ply membrane can offer many different design solutions, as well as a range of colour options. This innovative product is suitable for all types of domestic and commercial new builds, refurbishments and replacements, and does work best with a 'warm roof' system' where it is laid over insulation. The cost effects of a slightly higher roof profile is that your flat roof extension will provide your home with thermal protection, preventing heat loss through the roof and causing higher energy bills.
Warm roof or Cold Roof
In the UK as a whole, it is highly recommended to use a Warm roof system as many households lose heating through their roofs because their roofs are not insulated in accordance with building regulations.
In a warm roof construction we place the insulation above the roof deck, thus keeping the deck 'WARM', and avoiding the need for ventilation of the roof. The single ply membrane is then attached to the insulation., This method ensures far better thermal performance, helps to stamp out the presence of any condensation, and consequently being more energy efficient. Read more here about Warm roof construction.
In a cold roof construction, the waterproofing is laid directly onto the deck, and any insulation placed above the ceiling. This arrangement allows the deck to become 'COLD'. This system is not encouraged today since the roofs are highly prone to condensation which then seeps into the building materials and structure of the building. To reduce this risk, ventilation has to be provided which is often difficult to achieve effectively. Any existing cold roof system these days should be converted to a warm roof system so that it complies with Building Regulations Part L1A
Aesthetic decor profiles
Take a look around, and you will see that some flat roofs have been transformed into modern, sleek, and designer creations. The aesthetic appearance of your flat roof can be further enhanced by installing decorative profiles which imitate the traditional metal roofing system at a fraction of the cost.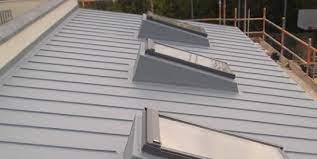 Contact us
R&D Roofing are fully trained SIKAplan Roofpro Installers
The single ply roofing membrane continues to lead in popularity because of its quality and longevity. As such R&D Roofing use technology which is made up of two layers of PVC material with a polyester reinforcement scrim in between. Just some of the advantages of this technology is that it enables you to choose an array of customised designs like colours and trims for your flat roof. You can also be assured that your completed flat roof solution will protect your home both inside and out. Single ply is an extremely long-lasting, sustainable solution, and as such we provide a 20 year labour warranty, as well as an insurance backed guarantee issued by the Confederation of Master Builders of whom we are members. Contact us for a free quotation and we will be happy to discuss your plans with you.