[us_page_title description="1″ align="center"]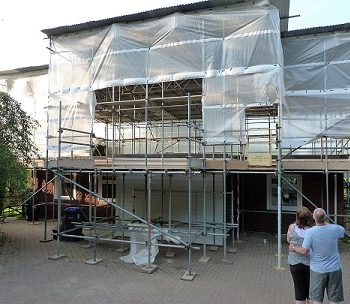 Trowbridge scaffolding provided a watertight and safe platform to work from.
Stonehenge Case Study
After many chats and emails back and forth the most sensible option was to make the decision to take down the decra clad pitched roof and upgrade the flat roof below to a new warm grp flat roof system.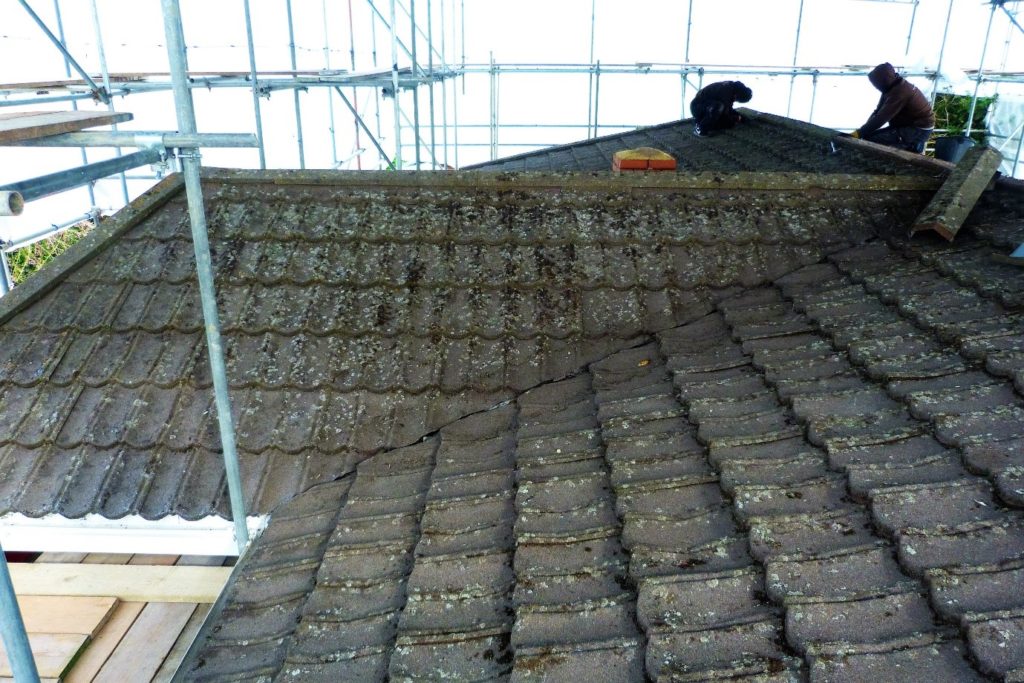 Existing decra light weight tiles
"The sky's the limit if you have a roof over your head"
A real team effort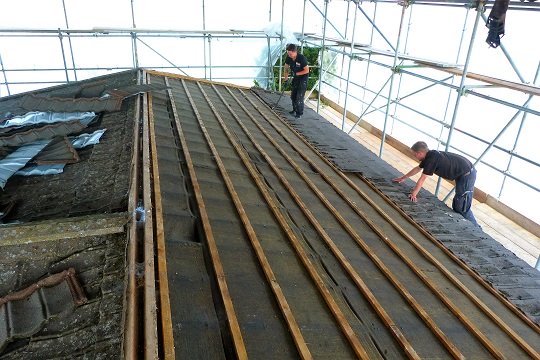 Stripping the pitched roof
After stripping the roof, the challenge was to pull off the decking which was in undersized 12mm plywood, stapled and glued everywhere to the joists.
Crowbars came in handy.
What is fibreglass roofing?
Fibreglass is a fibre reinforced polymer made of a plastic matrix reinforced by fine fibres of glass.
Is the top coat only available in Dark Grey?
No, there is a choice of top coats available (Any BS4800 Colour).
How will I maintain my roof?
The materials used are tough, durable and impact resistant, therefore no maintenance is required.
Do GRP materials come with a Guarantee?
Yes, they come with a 20-year Guarantee.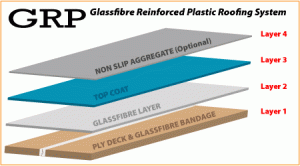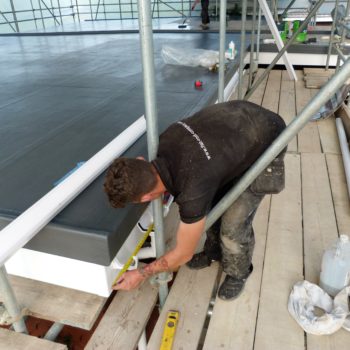 uPVC Guttering and Fascia being fitted
After the TG4 tongue and groove OSB3 roof decking was supplied and fixed over the top of the insulation, new fascia boards were fitted in white uPVC and complimented with white square line guttering and new downpipes.
Now we are getting there...
We were excited to be seeing impressive results as we finally got ready to supply and fix the GRP fibreglass Cure-it flat roof system to the decking.
New Cure-it GRP warm roof system complete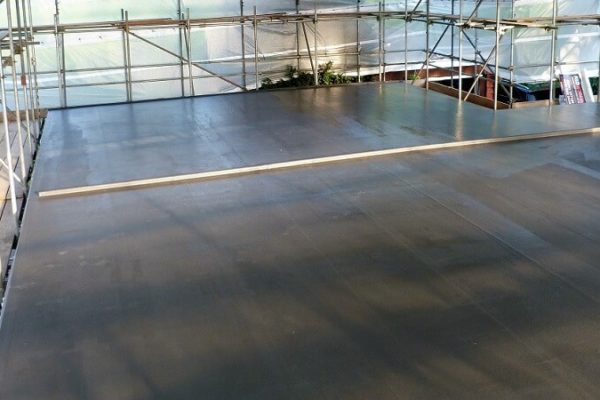 Warm GRP Cure-it roof system
Testimonial – Whatcombe Brow, Stonehenge
"We had serious issues with the existing roof as it had not been watertight and 21 years of rain had done its worst. Richie and the team uncovered a nightmare. The roof had to be stripped back to rafters and a full new warm roof fitted. R& D Roofing where professional, courteous and, despite the work extending by about 2 weeks due to what they found, remained on site until completion. The finished result is extremely good and any teething issues (guttering) were dealt with quickly even though we are 1.5 hours away from their office. We picked R& D Roofing as we wanted flat roof experts and am so pleased we did." 10/10